Introduction
Hyundai has a reputation for consistently pushing the boundaries of automotive innovation, and its latest creation, the Hyundai Exter, is no exception. The Hyundai Exter boasts impressive features in terms of performance, comfort, and safety, making it the perfect SUV. The Hyundai Exter is a great choice for those looking for a reliable, comfortable, and safe ride. This car has all the features you need to make your daily commute a breeze.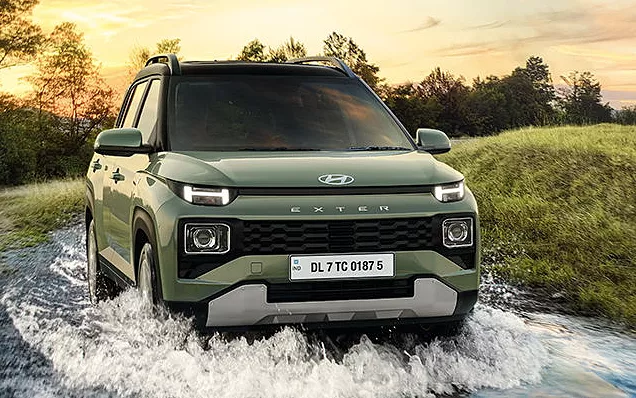 Performance of Hyundai Exter
Hyundai EXTER will empower customers with versatile experiences and fuel their urban & outdoor lifestyles. While embodying the feeling of freedom and excitement that one experiences outside. The Hyundai Exter promises an exhilarating driving experience, thanks to a range of impressive performance features:
Engine Options: The Exter offers a lineup of engine options, catering to various preferences. Whether you're seeking efficient daily commuting or spirited weekend drives, you'll find an engine that suits your needs. Also, Hyundai EXTER is equipped with 3 powertrain options – 1.2 l Kappa Petrol engine (E20 Fuel Ready) available with 5-speed manual transmission (5MT) and Smart Auto AMT (Automated Manual Transmission) and 1.2 l Bi-fuel Kappa petrol with CNG engine equipped with 5-speed Manual transmission. The Hyundai Exter is a powerfulcar, with four-cylinder engine that produces 181 horsepower and 175 lb-ft of torque. And the engine is paired with a six-speed automatic transmission, giving you smooth and responsive shifts.
Precise Handling: Hyundai has fine-tuned the Exter's suspension and steering for precise and responsive handling. Whether navigating tight city streets or taking on winding country roads, you'll feel confident and in control.
Automated Manual Transmission (AMT): AMTs allow drivers to manually override the shifting if desired by using paddle shifters on the steering wheel or a separate gear lever.
All powertrains are tuned to deliver consistent performance in diverse conditions and will ensure a delightful driving experience.
Comfort and Interior
The Hyundai Exter's interior is designed with comfort and convenience in mind:
Spacious Cabin: The Exter offers a spacious and well-appointed interior that can comfortably accommodate both passengers and cargo. It offers ample legroom and headroom, ensuring that every passenger can stretch out and relax. Whether it's a family road trip or a solo adventure, you'll have ample room to stretch out.
Premium Materials: The interior boasts high-quality materials, soft-touch surfaces. And a keen attention to detail, creating a luxurious ambience that rivals vehicles in a higher price range.
Advanced Infotainment: The Exter comes equipped with an intuitive infotainment system featuring 8-inch HD touchscreen display. It seamlessly integrates with your smartphone, providing access to navigation, music, and hands-free calling.
Electric Sunroof: The Hyundai Exter's voice-enabled smart electric sunroof. Also comes with built-in safety features, such as anti-pinch technology that prevents accidents or injuries while operating it.
Safety and Advanced Technology of Hyundai Exter
Hyundai places a strong emphasis on safety, and the Exter showcases the latest advancements in this area:
Six Airbags: The all-new Hyundai Exter is the first model in its class to get six airbags (dual-front, side and curtain airbags) as standard fitment. Other features like an Anti-Theft Alarm, Emergency Stop Signal, High-Speed Auto Door Lock, Impact-Sensing Auto-Door Unlock, ABS with EBD, and Rear Parking Sensors.
Electronic Stability Control (ESC): Electronic Stability Control (ESC) improves a vehicle's stability, particularly in challenging driving conditions or during sudden manoeuvres. In case of a skid or loss of control, the ESC intervenes by applying brakes to individual wheels and altering engine power to help the driver regain control. Thus decreasing chances of skidding & rollovers and enhancing traction.
Hill-Start Assist (HHA): The Hill-Start Assist (HHA), also known as Hill-Hold Control (HHC), prevents the vehicle from rolling backwards for 3 seconds on an inclined section. Thus allowing the driver to move their foot from the brake to the accelerator pedal and make a hill start effortless and worry-free.
Vehicle stability management (VSM): Vehicle Stability Management provides reliable stability, control, and superior driving experience by seamlessly integrating several state-of-the-art features designed to ensure maximum safety and comfort for both drivers and passengers alike.
Driver-Assistance Features: The Exter is equipped with an array of advanced driver-assistance technologies, including adaptive cruise control, lane-keeping assist, blind-spot monitoring, and automatic emergency braking. These features work together to enhance safety and reduce the risk of accidents. A 3-point Seat Belt for all seats is also part of the standard safety kit.
Dual Dashcam and TPMS: Dashcams are important as they serve two purposes – recording journeys for personal use like vlogging or keeping them as memories. The Exter's dashcam boasts a compact 2.31-inch LCD display. And using the footage for safety and evidence in case of undesirable circumstances. Similarly, TPMS (Tyre Pressure Monitoring System) is useful for determining if any tyre is deflated.
Conclusion
Hyundai's commitment to innovative design and attention to detail in their vehicle exteriors is truly remarkable. Whether you're looking for a sleek and modern design, a sporty appearance, or a more rugged and adventurous look. Hyundai offers a diverse range of options to cater to every taste and lifestyle. Their dedication to not only aesthetics but also functionality ensures that Hyundai vehicles are as practical as they are beautiful. With Hyundai's continued emphasis on sustainability and cutting-edge technology. We can expect their exteriors to not only remain visually appealing. But also contribute to a more eco-friendly and efficient driving experience. As Hyundai continues to push the boundaries of automotive design, it's an exciting time to be a part of their journey into the future.
As the automotive industry continues to evolve, the Hyundai Exter stands out as a prime example of Hyundai's dedication to excellence. Whether you prioritize performance, comfort, or safety, the Hyundai Exter offers an exceptional package that's sure to exceed your expectations.
Read more blogs, for more information.