In the world of automobiles, finding the perfect car that suits your needs and budget can be quite a journey. However, if you're a part of the armed forces and you're looking to purchase a Hyundai, you're in luck!
Capital Hyundai's involvement with the Canteen Stores Department (CSD) program allows you to enjoy exclusive benefits and offers on your next vehicle purchase. In this blog, we'll explore what CSD at Capital Hyundai means for you and how it can make buying your dream car more accessible and affordable.
What is CSD?
CSD, short for Canteen Stores Department, is a unique initiative by the Indian government to provide quality products at reduced prices to the armed forces personnel. It is an exclusive service designed to provide special benefits to armed forces personnel and veterans. Capital Hyundai is proud to extend this service. And making it easier for these individuals to access high-quality vehicles at affordable prices.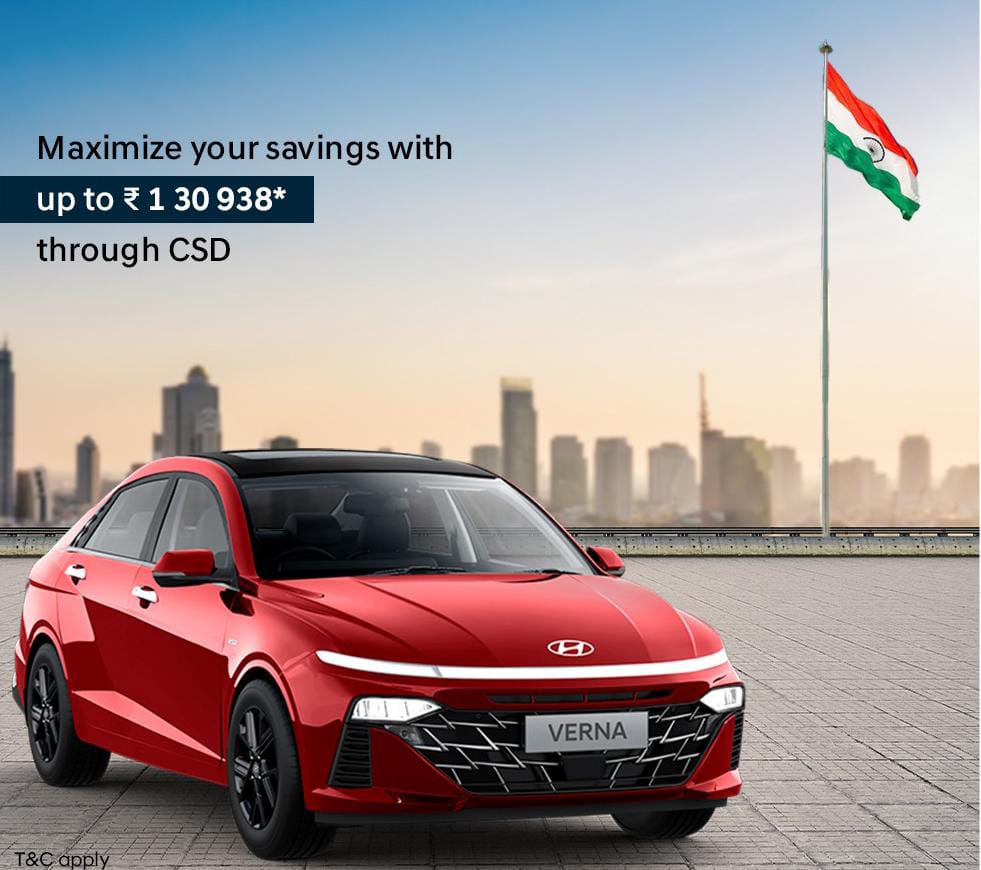 CSD Benefits at Capital Hyundai
Capital Hyundai is an authorized dealership that participates in the CSD program. This means that eligible military personnel can purchase Hyundai vehicles at specially discounted rates, making it an excellent opportunity to own a brand-new car from this renowned automaker.
The Canteen Store Department (CSD) price list under the consumer scheme brings an exciting array of benefits across various models, catering to the diverse needs of our esteemed customers. We offer benefits for various variants to suit your preferences, whether you're eyeing
The sporty All-New i20 to maximize your savings with up to Rs. 1,16,077* through CSD,
The robust and adventurous Venue maximizes your savings with up to Rs. 1,33,963* through CSD.
The luxurious Tucson maximizes your savings with up to Rs. 2,15,939* through CSD.
The New Verna maximizes your savings with up to Rs. 1,30,938* through CSD.
Or The elegant Aura, or The adaptable Grand i10 Nios with enticing cash rebates and exclusive financing choices, our customer program guarantees that you will receive outstanding value for your money.
Additionally, with the introduction of the Exter, Tucson, and Kona, along with the revamped New Verna, New Creta, and Alcazar, our CSD price list now covers an even broader spectrum of choices, allowing you to select the perfect model and variant that aligns with your requirements. Edit and choose your desired variant, and embark on a seamless car-buying journey with Capital Hyundai.
Benefits of Buying from Capital Hyundai via CSD
Exclusive Pricing: One of the most significant advantages of buying a Hyundai vehicle through CSD at Capital Hyundai is the exclusive pricing. You get access to a substantial discount, making Hyundai cars even more budget-friendly.
Wide Range of Models: Capital Hyundai offers a wide range of Hyundai models, ensuring that you have plenty of options to choose from. Whether you're looking for a compact car like the Hyundai Grand i10 or a spacious SUV like the Hyundai Creta, you'll find the right vehicle to match your preferences.
Easy Documentation: The dealership's staff is usually well-versed in the CSD purchasing process. Similarly making the paperwork and documentation smoother for eligible buyers.
Excellent After-Sales Service: Capital Hyundai is also known for its exceptional after-sales service. Ensuring that you'll be well taken care of throughout your ownership experience.
Finance and Insurance Assistance: The dealership may also assist with financing and insurance. Hence, it helps you navigate these aspects of your purchase effortlessly.
Test Drives: You can experience the Hyundai vehicles firsthand by taking them for a test drive at the dealership. And ensure you're making the right choice.
How to Avail CSD Benefits at Capital Hyundai
To take advantage of the CSD benefits at Capital Hyundai, you'll generally need to follow these steps:
Verify your eligibility with CSD as per their guidelines.
Visit the Capital Hyundai dealership.
Choose the Hyundai model that suits your needs.
Complete the necessary documentation with the dealership's assistance.
Finalize the payment process.
With these steps, you can be on your way to driving home a brand-new Hyundai car at a special price.
In Conclusion
The Canteen Stores Department at Capital Hyundai is more than just a convenience. It's a commitment to those who have dedicated themselves to serving our nation. We invite all eligible individuals to visit our dealership and experience the ease, savings, and outstanding customer service. At Capital Hyundai, we are honored to serve those who have served, and we look forward to helping you find the perfect Hyundai vehicle that suits your needs and preferences. Explore the world of Hyundai with the added advantage of CSD benefits—a token of gratitude from us to you.
Visit Capital Hyundai today, where your satisfaction is our priority. Let us elevate your car-buying and ownership experience to new heights.