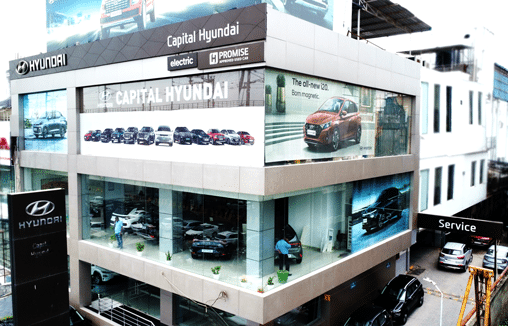 Seven determinants that will help you to get the best deal on a new car from the Best Hyundai Showroom in Noida that you can ever find. 
The demand for a new vehicle observed a slump in the lockdown. However, it is resurfacing because of the significant changes in the car buying experience. Purchasing a car is always an adventurous experience. But people get confused because every brand of the car seems to appeal. If you are one of those people who are not sure about what to do and where to start. Here are some crucial things to know which will assist you to minimize your confusion!
1.Is it the right time to buy a new car or should I wait?
It is a question that will frequently thump your head, whether to buy a car now or to wait. So, before arriving at a decision, consider some facts about yourself. First, keep in mind up to what extent this pandemic has affected you. If you were jobless for a long period then hold off the desire to buy a car. Next is the need for which you want to own the vehicle. If it's for quintessential transportation then you can go on with your decision of buying a car.
 2.Buy a new car or a used car? 
A new car is graceful and gives us immense pleasure. For example, if you want to experience the stylish inbuilt features then you can buy a best Hyundai showroom in Noida. But it also comes with a liability to pay off the loan. Some people want to go on with a used car as this can be a smart move during an ongoing pandemic to save yourself from the burden of debt. But it comes with the uncertainty of mechanical culmination as it is a 'used' car.
3.Decide what car you want
Deciding which car you want simply depends on what features you are looking for in the vehicle. For example, if you want a car with features like Intellectual Manual Transmission (IMT), you can buy Hyundai cars. You can research online about the features available in cars and then short-listing them according to the potential features which you want.
4.Choose over one car 
If you select only one model then you will be helpless in front of the dealer. And you have very low chances of negotiation. Therefore, a better idea is to have a backup car with similar features to the first one preferred. For example, if you want to buy a Hyundai car, you can also shortlist similar. Having another option gives you more negotiation power.
5.Selecting the best deals available
Once you have selected the car, you can search online about the price offered by different sellers and select the dealer with the best price. You will also get to know which dealers are open. You can also find great deals at the
 best Hyundai showroom in Noida
.
6.Use your negotiation power 
During the pandemic, the automobile industry has witnessed a huge decline in sales. So, the salesperson will be more amenable to bargain at this moment. Take advantage of that and oppose the salesperson to add unnecessary costs to your bill.
7.Always get your deal in writing
Dealers can manipulate their statements in offering the best Hyundai car offer to you. If you don't have your terms on paper, then you have no evidence of your deal. If anything like this happens, you have other options on your list to unearth more deals. For an ideal car, you can visit the 
best Hyundai showroom in Noida. 
We know that purchasing a car in this pandemic is a bit complex, but nobody can stop you from realizing your dream of owning a car. Use your researching skills over Google to make the most of the situation and save your money as well. Thank You