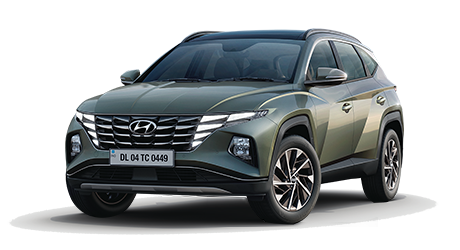 A supreme performance: The all-new Hyundai TUCSON is ready for everything. HTRAC empowers you to take on challenging roads while different modes ensure all your journeys go smooth.
So, without wasting time let's know more about this amazing new launched car.
What are the specifications of the Hyundai Tucson Car?
From looks to the engine to performance, everything is improved in this car. This is a simple car with great looks and features. Here you will know about each
specification
of this car along with the
Hyundai Tucson on road price Noida
.
If we talk about the engine there are two varieties offered by Hyundai Tucson. The two varieties include the Nu 2.0 Mpi petrol engine is capable of a maximum 152 ps at 6,200 rpm and 19.6 kg.m torque at 4,000 rpm with high fuel efficiency and ensure smooth and responsive drive and the other one with R2.0 L CRDI diesel engine is capable of a maximum power 185 ps/4 000 rpm and max torque of 40.8 kg.m at 1,750-2,750 rpm. An electronic system that monitors the tire air pressure and alerts you when it falls, Drive with complete peace of mind and enjoy all your journeys. Furthermore, talking about the Tucson performance, this car provides the option to choose between ECO mode for higher fuel efficiency and sports mode for enthralling performance at the press of a button. The 4WD automatically implements Rear wheel traction control by assessing road conditions and maintain utmost traction on rough, loose, or slippery surfaces, improving stability while cornering.
Safety is the main factor that every individual asks for. Undoubtedly, the
Hyundai Tucson
has been the best in class for safety and is also said that it has some of the best compact SUV ratings in the past years. This car has further earned an honor from the National Highway Traffic Safety Administration and the Insurance Institute for Highway Safety after performing strongly in crash tests. This car has owned a five-star rating from both front and side crash testing and scored a 4.5 for overall road tests. The safety features of this car include automated emergency braking, lane keep assist, adaptive cruise control, driver attention warning, and many more. If you're searching for something more than this then also you can add some additional features like blind-spot warning, pedestrian detection, and automated high beams.
Interior high-tech and Entertainment
Along with other specifications, the interior design and technology also matter for a buyer. This SUV contains an Apple Car play and Android Auto compatibility that will display media and other lists of driving statistics. The premium SUV Tucson has an 8.0 touchscreen with an in-dash navigation display. This car has a cool interior intuitive design that goes well with the beige and black color interior theme.   The seating is made of quality fabric that further provides stain resistance, repels odors, and also provides great comfort while sitting in the car as it has smooth stitching and standard-quality seats. These seating stitches are great interring woven stitches designs that would be highly preferred by the person who focuses on the interior cloth materials.
Conclusion
Tucson is an amazing compact SUV that has turned the whole market. This car provides a lot of features and good performance at amazing pricing. This is affordable in price and also gives good advantages to its users and it is not deniable that
Hyundai
has launched a great powerful SUV in its edition.