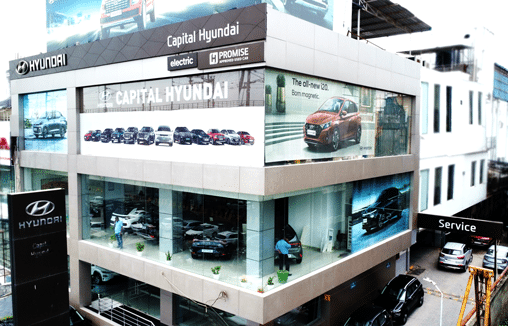 Deciding to purchase a
Hyundai car  in Noida
you are taking the right step in ensuring mobility, safety, comfort, and convenience for your family. Hyundai is India's second-largest automaker offering world-class engineering and quality to all its customers.
Large and efficient dealer and after-sales network
The automaker is the second-largest dealer, after-sales, and service center network in India and is present in every major city and town of the country.
Hyundai cars are loaded!
All cars from Hyundai, whether entry-level, are so much loaded with features even the base models are too many to count in a single breath with the most reasonable price.
Powerful Engines
Even a hatchback from Hyundai car is considered the most powerful car in its category. It is ahead of the curve by introducing the latest designs and technology in engines as it did with BS6 technology before any carmaker.
Great resale value
The durability of the engine and body means the least amount of wear & tear, and therefore the owners can get great resale value on their Hyundai cars.
Safest cars on Indian roads
For almost two decades Hyundai cars have followed more safety measures than those were mandated by rules. The rigid and heavy body, crumple zones for impact shock absorption, ABS with EBS, emergency stop signal, multiple airbags, etc. make it a complete family car.
Present in all segments
All carmakers have a great segment, except Hyundai. It has the second-most number of models and is the only carmaker that is present in all segments with multiple successful variants.
Fuel-efficient
A powerful engine does not mean fuel efficiency has been compromised. Regular service and properly tuned cars can save up to 6% fuel and avoid expensive repairs. Hyundai recommends approved oils only available at the Hyundai Car dealers only.
Feel luxury and class
The interiors, color schemes, body panels, body finish, legroom, and comfort make Hyundai cars more luxurious even at the entry-level.
Hyundai Mobility Membership
With the newly launched Hyundai Mobility Membership, Hyundai takes another step in a Customer-Centric ownership program for all proud Hyundai car owners. Mobility, shopping, fitness, entertainment, and more under one unified mobile application. Which you can enjoy as and when you want without the hassles of earning & redeeming points. Visit the
Capital Hyundai
showroom today. Thank you